18 Ways to Practise Emotional Self-Care for Healing & Growth
Emotional self-care is massively important for our mental well-being and mindset overall.
While physical, mental, social, financial and even spiritual self-care are also equally as important, I feel like emotional self-care in particular has been a huge part of my healing and growth in recent years.
As someone who suffers from depression and anxiety, my mindset has a habit of dropping off a cliff at times, and keeping on top of my emotional self-care has been paramount.
While self-care doesn't cure mental health issues – and if someone claims it does, they've never experienced truly bad mental health – it can alleviate some of the symptoms and make it more manageable.
It also helps give you a helping hand when you are dangling off the side of that aforementioned cliff.
What is emotional self-care?
Emotional self-care is, quite simply, self-care for your emotional health.
It means taking care of your emotional needs and, for lack of a more exciting explanation, makes you feel better.
Emotional and mental self-care are closely linked, so the following emotional self-care ideas that I'm going to write about can be practised for that as well.
What are some examples of emotional self-care?
Some of the best emotional self-care tips that I've picked up over the years are:
#1. Set and enforce clear boundaries; protect your energy
Learning to set boundaries and protect my own energy was one of the last aspects of emotional self-care that I learned, but I wish it had one of the first.
I've always put others' needs, feelings and emotions before mine, which isn't necessarily a bad quality to have, but when it encroaches on your own happiness, you can often run into problems.
Set boundaries, such as topics you won't discuss, types of people you won't surround yourself with, and behaviour you won't stand for, and stand firm with them.
Learn to say 'no' to situations, requests and people that make you uncomfortable.
Inform people of what your boundaries are so that they know not to overstep them.
Protect your energy. You don't have to be uncomfortable.
If people violate your boundaries after you've made them clear, you'll know this human being doesn't deserve your time or energy. (See #5.)
#2. Have a big ol' cry
A lot of the time, having a good cry can feel really good afterwards and there's a reason for this: sad tears actually have a different chemical makeup to happy tears.
They contain protein-based hormone Leu-enkephalin, which is a natural painkiller, as well as prolactin and adrenocorticotropic hormone.
If you're feeling teary and as if you need to cry, just do it. It will make you feel a sense of relief and release some of the tension that's built up.
Crying in the shower is basically a hobby of mine at this point.
#3. Identify your triggers
Identifying what triggers you have – if any – can help you avoid stressful situations that may cause you emotional distress.
Once you've identified your triggers, you can also start working through them and/or learn to live alongside them.
When you know what you're facing and what you need to avoid to protect your own energy, you'll feel a lot more at peace.
However, this leads me to emotional self-care tip #4…
#4. Get outside your comfort zone
While avoiding triggers and emotionally harmful situations is good, it's not always possible or even realistic.
Life happens and, one day, you're bound to come across a situation that triggers you that's unavoidable.
This is why working through triggers via a therapist and shadow work is important for your emotional self-care. They give you the tools you need to confront them in a healthy way that helps you move forward.
Trigger-talk aside, just pushing yourself outside of your comfort zone once in a while is emotionally rewarding and helps you build mental strength.
Force yourself to make that appointment when you have phone anxiety.
Go to that coffee shop to have a coffee by yourself.
Say 'yes' to that social event that you were reluctant to go to for no other reason than you'd have to arrive alone.
You'll feel like a badass afterwards.
#5. Cut out toxic people
This one links to setting and enforcing firm boundaries.
If people overstep your boundaries after being told about them, don't take your feelings into consideration, or display toxic behaviour that makes you uncomfortable, you need to cut them out of your life.
It may feel gross at first, especially if you've never done it before and they've been in your life for a long time or you care for them, but it will be amazing for your emotional well-being in the long-run.
#6. Therapy
I always recommend getting therapy is it's available and accessible to you.
This is mainly because I'm not a professional and true, deep emotional healing, especially from trauma, is best talked through with someone who's qualified.
I do realise that therapy – especially good therapy – is not accessible, affordable, or available to most people, which is why this blog exists in the first place.
#7. Talk to a trusted loved one
Talking to a loved one about your emotions, problems and causes of stress can really help alleviate some of your worries.
Sometimes, you don't want to talk, and that's totally fine. Just seeing another human being and making small talk can feel nice, particularly if we've been isolating, which us depressives tend to do.
Sometimes, you end up spilling your entire life story – half of which they probably already knew – and releasing everything that's been building up.
When it comes to emotionally unloading, make sure you keep the other person's boundaries in mind as well.
Don't completely unload a ton of triggering stuff onto them if they've expressed they're not 100% comfortable with that.
A simple "Can I just unload on you about [insert problem] for a few minutes, please?" goes a long way.
#8. Journal prompts and… journaling in general
I'm a huge fan of using journal prompts and journaling in general as a method of emotional self-care.
It's seriously helped improve my mindset and mental health and, if you've been on my blog before, you probably know I take it quite seriously and recommend it to just about everyone who will listen.
Getting your thoughts, worries and emotions down in a journal can feel really cathartic and, if you do it first thing in the morning, helps set your day up on a positive note.
#9. Meditate – Take deep breaths
Meditation helps clear mental clutter.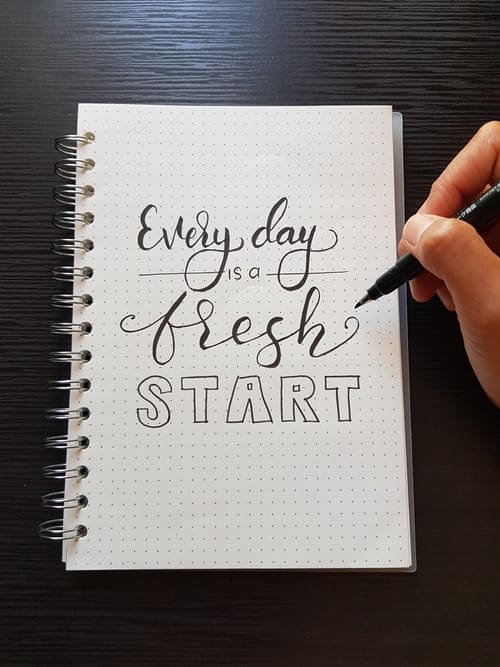 It helps level out your energy and emotions if you're feeling stressed and also improves mindfulness – just being present in your body without external distractions.
Just a few minutes everyday can make a difference.
#10. Affirmations
Repeating affirmations – self-affirming statements – a couple of times a day can help improve your self-esteem, which, in turn, acts as a type of emotional self-care.
You can repeat your affirmations out loud, in your head, in your journal, or in all three.
#11. Gratitude
Practising gratitude by being thankful for what we do have, rather than what we don't, helps switch up our mindset.
It's been proven to relieve stress and make us more positive overall.
Focusing our energy on what we've already got encourages us to appreciate life so much more.
Try writing down or repeating a few things you're grateful for each morning for a couple of months and see how you feel.
#12. Mindfulness – be present
A problem that a lot of us have is staying present. Myself included.
We're either depressed because we're living in the past or anxious because our brains are skipping ahead to the future.
We over-think ourselves into despair.
Being present and practising mindfulness by meditating and being self-aware (something else journaling actually helps with), is huge for our emotional well-being.
It helps us focus on and appreciate the here and now, not the past that's already been, or the imaginary future that may not even happen.
It's peaceful and brings me a sense of calm.
#13. Forgive yourself for being human
Making mistakes and feeling emotions are all part being human.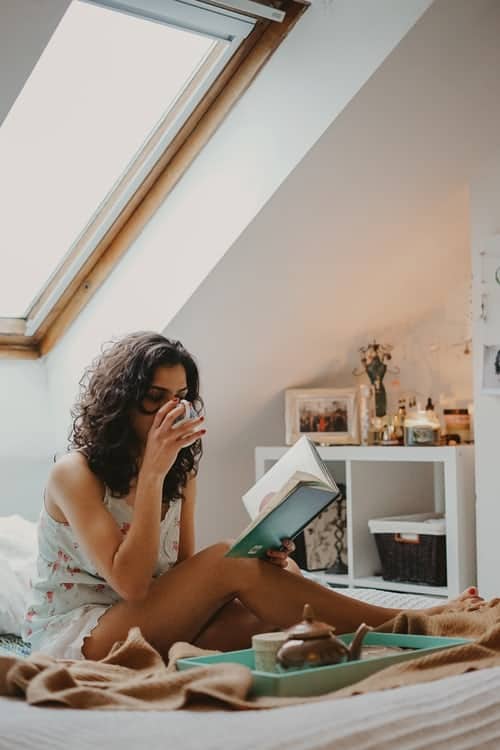 They're what help us learn, grow and develop as people.
Beating yourself up for being human is a fruitless task, which is only going to harm your self-esteem.
Forgive yourself and move on.
#14. Be kind to yourself – make time for you
Leading on from the last emotional self-care tip: be kind to yourself.
Do things that make you feel good, say 'yes' to stuff that makes you happy, don't take life so seriously, and make sure to take every opportunity you can to laugh.
Put yourself first.
Treat yourself how you would a close friend because, let's face it, we should all be our own best friend.
#15. Be kind to others
On top of being kind to ourselves, we should also strive to be kind to others.
Our own emotional needs are paramount. However, making sure the needs of others are also taken care of can feel really good.
Selfless acts and helping others is super-rewarding.
#16. Listen to your intuition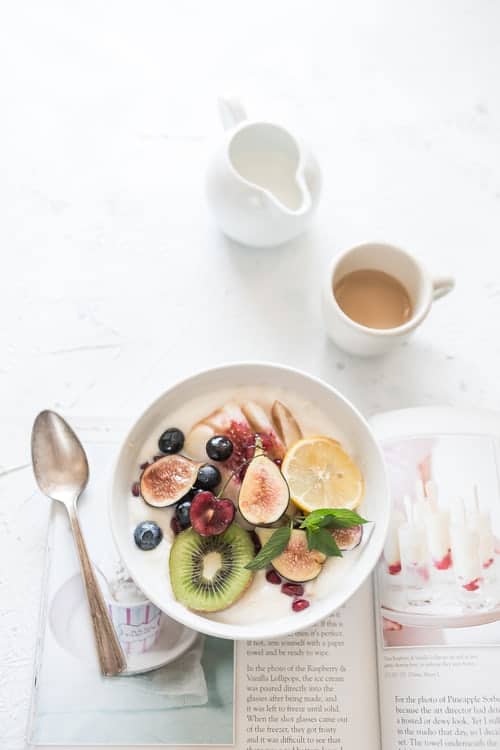 Learning to trust yourself, your mind and your body is one of the most empowering things you can do for your emotional well-being.
It puts you in tune with your own needs and strengthens the bond you have with yourself, which is the most important bond we have.
Eat what your body wants, do what feels good for you, and listen to your own intuition.
#17. Challenge negative self-talk
We are our own biggest bullies and our harshest critics, which is so messed up when you think about it.
Negative self-talk can be so damaging to our mental and emotional well-being.
When negative self-talk arises:
Acknowledge it as negative self-talk (self-awareness)
Challenge it and rationalise with it (is what you're saying actually true? What hard evidence do you have to support it?)
Replace it with positive self-talk (for example, a positive affirmation that directly relates to whatever negative thing you just told yourself)
#18. Shadow work
Shadow work is a method of healing that involves discovering your shadow traits (the traits you keep in the dark, such as anger and jealousy), healing them and growing from them.
Our shadow side is usually formed in childhood, so shadow work involves a lot of confronting past trauma and healing our inner child.
You can do shadow work through journaling, meditation, and self-reflection.
It's a crucial part of my emotional self-care.
Why is emotional self-care so important?
Emotional self-care is important because, without our emotional well-being, our mental health begins to crumble.
We have to take care of our mental and emotional health as well as our physical health. They're equally important.
When we look after our emotional health and take care of our own emotional needs, we improve not only our mental health, but our mindset overall, our self-esteem, motivation, and outlook on life.
When we don't practise emotional self-care, all this falls by the wayside and we spiral.