How to Make Your Blog Load Faster as a Complete Novice
Did you know that 53% of mobile users will click off your website if it takes longer than three seconds to load?
With this in mind, it's likely that you may want to find how to make your blog load faster.
According to Marketing Dive, over half the people that land on your site won't hang around more than a few seconds to check out your content, which is shocking as the average page loading time for most websites is around 19 seconds.
Why is blog loading time important?
My site speed used to – somewhat surprisingly – be a little faster than average. It would take around nine seconds to load on desktop and a sluggish 14 seconds for pages to load on mobile.
Yikes.
This is still SUPER slow and, most importantly, doesn't result in a good user experience, which, to Google, is paramount when it comes to SEO.
Google wants to keep its users happy. Therefore, it's only going to rank quality content that people find useful in those coveted top places within its search engine.
If people are clicking off of your blog within seconds of opening your page, this is signalling to Google that your content isn't helpful and/or that the user-experience isn't quite where it needs to be.
It's therefore unlikely to rank it as highly (i.e. show it to more people) as another site that's written content that users are spending longer reading because they're having their question answered and enjoying their user experience.
This is why knowing how to make your blog load faster is so important: not only does having a slow blog mean people aren't even consuming your content, it means that you're missing out on the traffic that could come with being ranked higher on Google.
While SEO factors such as writing quality content and gaining authority (usually through backlinks) is arguably more important in Google's eyes, there's no two ways about it: if your content is taking over three seconds to load, the chances are over half the people who do land on your blog aren't even going to read it!
They've already clicked off and gone to one of your competitors.
Now, when it comes to making money from your blog, this is NOT good.
And with a loading time of 14 seconds on mobile when over 70% of my traffic comes from mobile users… I was in a pretty sorry state.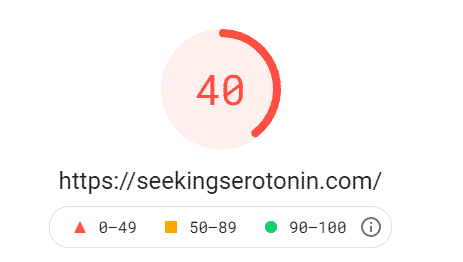 As an SEO novice, I had two options:
Pay for someone else to help make my blog load faster, which can get expensive
Or try to do is myself as simply as possible without completely breaking my blog
At the time I decided to improve my blog speed, I didn't have the money to hire an expert, so I had to go with option number two.
Fortunately, learning how to make my blog load faster wasn't as complicated as I first thought.
I've broken the process down into five main, straight-forward steps for you so that you can do the same, especially if you're a beginner.
#1. Choose a high-speed blog host
When I first started blogging, I went with the first blog host I saw my fellow bloggers speaking about the most: Bluehost.
Bluehost aren't a bad hosting company by any means: they're a trusted company, so you know that your website will be safe with them, and relatively budget-friendly.
However, they're also notorious for slow page loading times.
In fact, after running extensive speed tests, website building experts, Tool Tester, found Bluehost to be the slowest of all the hosts they tested.
While web hosting wasn't totally to blame for my shocking page-loading speed in the beginning, it definitely contributed because, once I switched to a faster host, I managed to shave 5 seconds off my loading time. Just by changing my host and nothing else.
The new host I decided to go with was NameHero.
I'd seen NameHero being mentioned over-and-over in private SEO Facebook groups; I knew that they were famed for their fast, affordable plans.
Blogger after blogger was raving about this host's amazing customer service and their improved site speed.
At the time of writing, is actually cheaper (for the cheapest plan over a 12-month contract).
NameHero pride themselves on being one of the fastest web hosts out there. They use the latest proprietary technology, a private cloud with solid state drives, high availability bandwidth, and powerful Intel processors.
This means no overloaded servers, unlike other web hosts I could mention.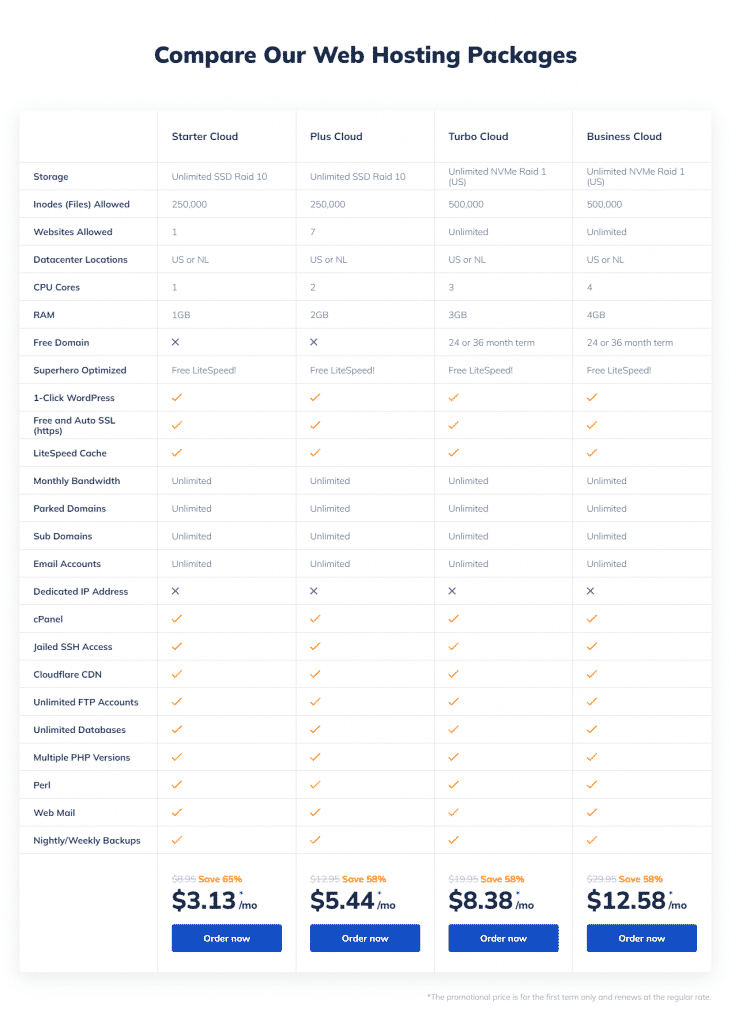 Signing up with NameHero was super-simple and getting my website switched over from Bluehost to my new hosts was a piece of cake, even for a complete novice like me.
If I did get stuck, their customer service was on-hand to help me out within minutes.
Migrating my blog and switching my domain over* from Bluehost to NameHero took less than a day and the valuable seconds it shaved off my blog loading speed was worth it.
Check out NameHero for yourself.
*If you already have a blog that's hosted with someone other than NameHero, you'll need to migrate your website AND transfer your domain over, which is two separate tasks.
Both super easy, but also very important.
If you're switching from Bluehost to NameHero like I did, here are some resources that you might find helpful:
If you're feeling a little lost, remember that NameHero's customer service is brilliant and will happily hold your hand throughout the process.
#2. Pick a streamline, quick blog theme
When you first start blogging, if you're anything like me, you looked at beautiful blogs with intricate designs and wanted to emulate that.
These blog themes and designs usually had animated buttons, slide shows of images, and lots of moving parts.
In order to do this, you need a blog theme that allows for that, such as Divi by Elegant Themes. (Divi was my first blog theme.)
These type of blog themes tend to use block page builders, which can make building your blog really easy and, if you know what you're doing, can help you build a really stunning website.
However, they can also slow down your post loading time massively. Adding all those bells and whistles onto your pages adds extra CSS and JavaScript, which can make your blog sluggish.
In order to really make your blog load faster, it's wise to convert to a stripped back, streamline, sleek blog theme, which is probably more user-friendly anyway.
Using a theme that's optimised for mobile is essential for increasing mobile page loading speed as well, which Google has stated is really important for SEO as the vast majority of web-users access websites via their mobile. (For example, 78% of my overall traffic comes via mobile.)
One such theme that everyone is showering with praise is Kadence.
Over the last year, the minimalistic, high-speed theme has been receiving glowing reviews and is routinely being awarded 4.5 – 5 stars by WordPress experts.
And, guess what?
While Kadance has a pro option, which provides you with a ton of awesome, high-speed website templates, they also have a free plan.
What I personally did was sign up to Kadance's free option and then integrated that with a theme from Restored316 so that I barely had to build my blog myself.
As someone who's not got much experience with building websites (I don't think my old MySpace page counts), I find designing my blog really difficult, so having a ready-made, beautiful theme ready to just integrate with my site so that all I had to do was edit the text, images, and brand colours was amazing.
It really took the stress out and my site was transferred in under two hours. I'm so proud of it now.
Restored316 are renowned for their stunning, unique, and super-fast themes that help your blog load faster, as well as look professional.
They also have tutorial videos to help applying their theme to your blog effortless.
After switching from Divi by Elegant Themes to Kadence + a Restored316 theme, I managed to make my blog load even faster.
Check out Restored316's range of themes.
#3. Remove unused plugins that slow down your blog
Another way you can reduce page loading time is by removing excess plugins that might be slowing down your blog.
The best way to do this is:
Open up your WordPress plugins and immediately deactivate and delete any that you don't use anymore.
Get rid of any social media sharing plugins, or plugins that involve loading images. They're not necessary and can slow your blog down. Here's a list of different types of plugin that might be slowing down your site.
This should be all you need to do as, while having tons of plugins that slow your site down isn't ideal, it doesn't make too much difference.
#4. Cache and optimise for faster loading times
While deleting apps that slow down your blog page speed can make a small difference, installing plugins that cache, file optimise, and introduce lazy load can make a huge difference.
You can install separate plugins to carry out each of these tasks for you, OR, you can install a plugin that does it all for you.
I tried the first option but, as I'm a novice, it just left me confused and didn't really help improve my site speed at all.
I then tried the second option, which did help and shaved even more seconds off my pagespeed.
WPRocket is a plugin that helps cache your site automatically, optimises files and uses lazyload to get your blog pages loading as fast as possible.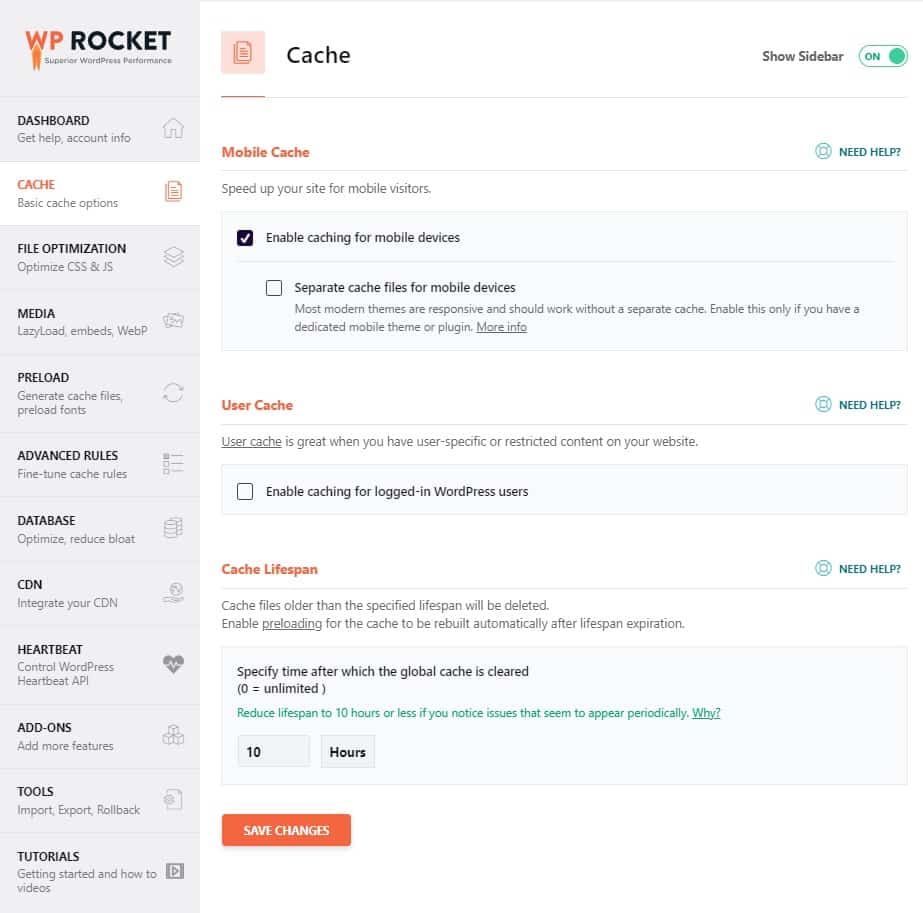 The plugin is super-customisable and takes only minutes to set up. (I used this video to set up mine, which took out a lot of the guess-work and meant I was up and shaved even more time off of my site speed.)
As you can see, the facts speak for themselves. I shaved x seconds off my blog's loading time JUST by installing this plugin.
Check out WPRocket for yourself.
#5. Compress and optimise blog images
The main cause of slow blog loading times is unoptimised, large images.
A way to combat this is to only use png image files on your blog, rather than the more-detailed jpeg images.
However, I found that this only makes a slight difference and takes a lot of time if you've already got an established blog with tons of photos within the posts, your home page, about page, etc.
Instead, it's really wise to get an image compressor plugin that will scan through your blog and compress all of your images for you via the click of a button.
There are some free image compressing plugins out there, which work well for some time, but ultimately need upgrading once you read a certain amount of images.
I personally use Imagify, as it's recommended by WPRocket when you sign up.
Imagify lets you pick how compressed you want your files to be (normal, aggressive, or ultra), and scans through your entire sight to compress the images you've already uploaded.
How to make your blog load faster: Additional tips
While the five steps above were enough for me to get my page loads from 9 seconds on desktop and 14 seconds on mobile to 1.8, there are other additional steps you can take to get the absolute fastest website possible.
These include:
Contacting your host: Utilise your host's customer service expertise and see if they can tinker with anything at the backend to help your blog load faster. Ask if there's anything else you can do from their point of view.
Use a Content Distribution Network (CDN): NameHero allows you to use Cloudflare with their plans, which you can enable via your control panel. CDNs help improve your blog's loading speed by caching your content in multiple locations around the world.
Keep your number of redirects to a minimum.
Minify CSS, JavaScript, and HTML: You can do this via the click of a couple of buttons via WPRocket.
Defer loading for your CSS and JavaScript files: You can also do this via WPRocket.
Ultimately, improving your blog speed doesn't need to be a task that you focus too much time and effort on.
You can achieve adequate site speed simply by following the five steps above.
It can be helpful for SEO and lead to a better user experience, but shouldn't take up weeks and weeks of time that could be spend on more important SEO factors, such as content creation and backlinks.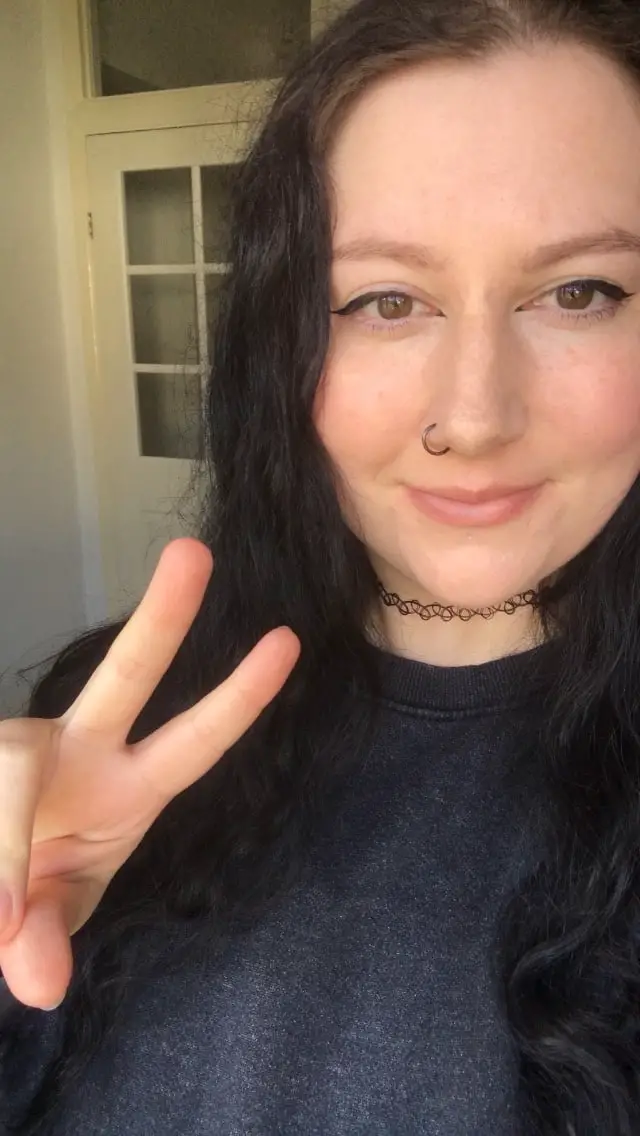 A witchy ray of sunshine who loves to help others on their journal journey. I've been journaling since childhood and have since gone on to earn a degree in English and a diploma in Shadow Work. I love my plant babies, yoga, and anything spooky. Find out more on my about me page.