2022 Journal Gift Guide: 100 Awesome Journaling Gifts
Journaling gifts are not only useful, they're extremely thoughtful.
As someone who has been journaling for years, it means a lot to me when someone gets me a journaling-related gift as it shows they've taken an interest in a really important part of my life and want to help me further that.
However, if you don't personally journal yourself, you might be wondering what to get someone who loves to journal.
The best journaling gifts I would recommend getting the journal-lover in your life are (you can jump to any of these sections):
I'll go into all of these, including my favourites, below.
I'm going to start off with what I believe to be the best journaling gifts you can give: specialist journals.
By this, I mean journals that have a specific theme or goal in mind, for example, gratitude or productivity.
They usually include clear prompts and directions, and are basically a one-stop shop for journal-lovers whether they're just a beginner or have been journaling for years, which makes them a safe all-rounder to buy.
My Top Picks
As a journal lover myself, my absolute favour journal gifts have to be:
Best All-Round Journal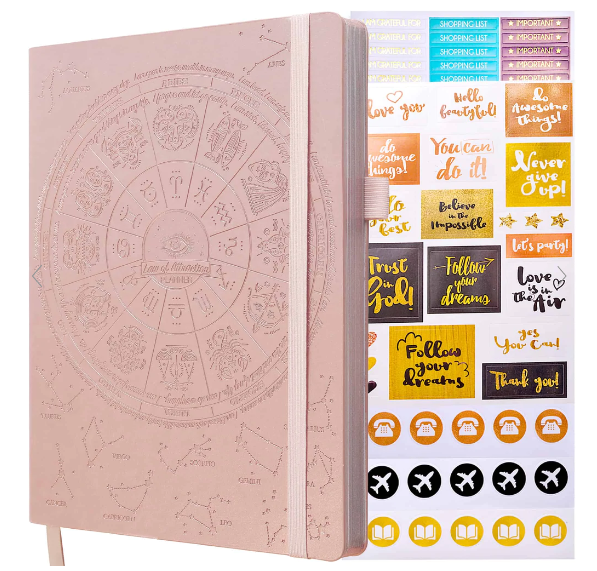 The Law of Attraction Journal by Freedom Mastery.
Best for Beginners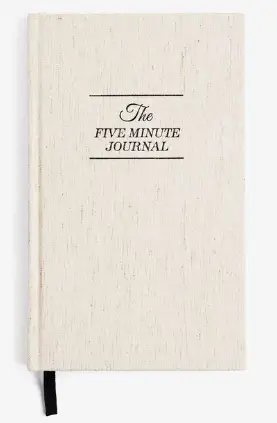 The Five Minute Journal by Intelligent Change.
Best for on a Budget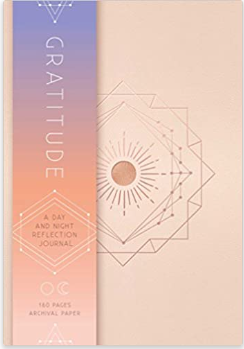 Gratitude: A Day and Night Reflection Journal.
Specialist, themed journals
Those who are new to journaling might prefer a more specialised journal geared towards a specific goal, such as gratitude, productivity, or manifesting.
These types of journals are not only usually beautifully designed, they guide the user to write whatever they need to write to achieve their personal goal, which is why they make amazing gifts for those who are just starting to dip their toes in the water. (Unless you're like me and still use them after journaling for years.)
Law of Attraction Journal by Freedom Mastery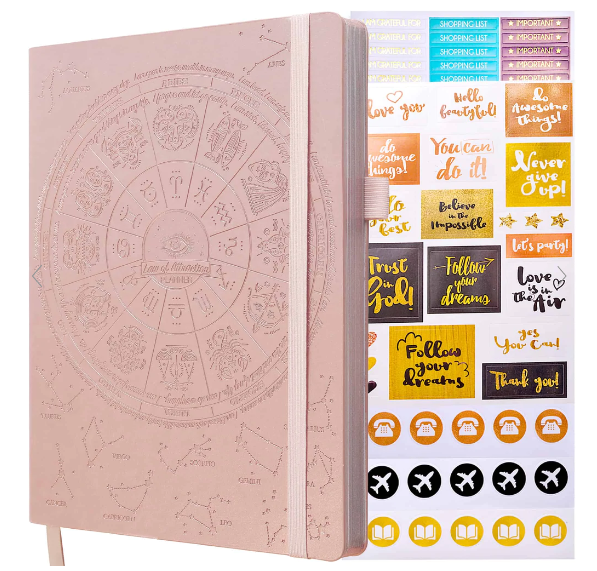 This is my favourite journal of all time.
The cover is actually breath-taking and has a luxurious, soft-yet-sturdy feel to it.
The edges of the pages are also coloured, which only adds to how stunning this journal looks.
The journal also includes tons of prompts, weekly planner pages, exercises and information to help you work towards your dreams, which is great for improving your mindset even if you're not particularly interested in the Law of Attraction.
I really couldn't recommend this journal enough. It's excellent value for money and, as I said, I repurchase it with a different cover every year.
I can't overstate enough how beautiful this looks in person; whoever you buy it for will be thrilled.
Fortunately, you can still find the Law of Attraction Journal by Freedom Mastery on Amazon.
Five Minute Journal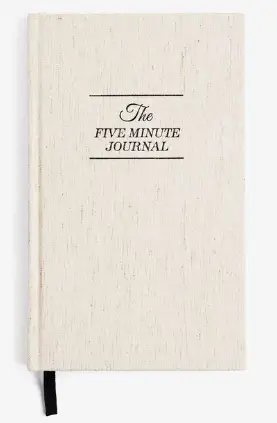 The Five Minute Journal by Intelligent Change is a journal I started off with when I was first getting into practising gratitude.
It's perfect because it's compact so doesn't feel too daunting, it prompts you to practise being thankful and think positively, and gets you in the habit of journaling daily.
The idea behind it is that you only need to take five minutes out of your day each morning and evening to practise gratitude in order to make a real difference to your mindset.
The small journal contains prompts for practising gratitude and reflection. It's quick, simple, and really effective.
Check out the Five Minute Journal.
Self Journal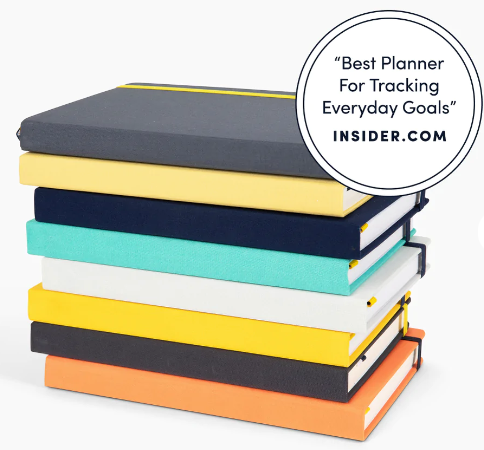 The Self Journal by BestSelf aims to help you optimise your day and live your best life, which makes it a lovely gift to give to someone you care about.
The 13-week, 5.75″ x 8.5" hardcover planner uses techniques based in science and psychology to help those who use it to live a fulfilling life where their goals are smashed and days are productive.
It also helps you learn how to prioritise and build positive habits.
The packaging on this looks SO slick, you don't even have to worry about gift-wrapping, and it comes in a small range of colours.
Check out the Self Journal.
BestSelf Planner
The BestSelf Planner by, well, BestSelf is a 7″ x 10″ hardcover planner, which helps organise your life with six months worth of to-dos, time management techniques and tips to help you maintain a healthy, positive work-life balance.
So many people struggle with all of the above, so this gift is perfect if you have someone in your life who needs to learn how to live in the present and manage their stress.
Find out more about the BestSelf Planner.
Productivity Planner
The Productivity Planner by Intelligent Change aims to help you get the most out of your day by setting goals and planning ahead.
This compact journal is useful if the journal-lover in your life enjoys being organised or struggles with feeling overwhelmed, stressed or anxious.
Planning ahead is a great way to alleviate feeling overwhelmed as you basically lay everything you need to do down on paper – and this paper has the prompts.
Check out the Productivity Planner for yourself.
Gratitude: A Day and Night Reflection Journal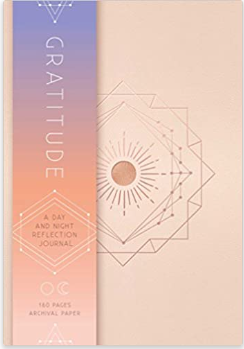 Gratitude journaling is a really effective way to practising being thankful and boost your mindset.
This gratitude journal not only has a super-pretty cover, it also teaches you how to practise gratitude and be introspective every morning and evening. This improves self-awareness and mindfulness, which is tremendous at relieving stress and anxiety.
If you have someone in your life who would benefits from this or who you know wants to delve deeper into practising gratitude, this beautiful 90-day journal is a fantastic gift.
You can find the Day and Night Reflection Journal on Amazon.
30-Day Gratitude Journal
BestSelf have a 30-day gratitude journal to help you get into the positive habit of being thankful, as well as daily journaling.
This small journal includes prompts that aim to help you cultivate a positive mindset, boost happiness, and improve self-esteem.
This cute journal is the perfect budget-friendly journaling gift if you're looking to buy a themed or specialist journal for a journal-lover.
Check out the 30-Day Gratitude Journal.
Purpose Planner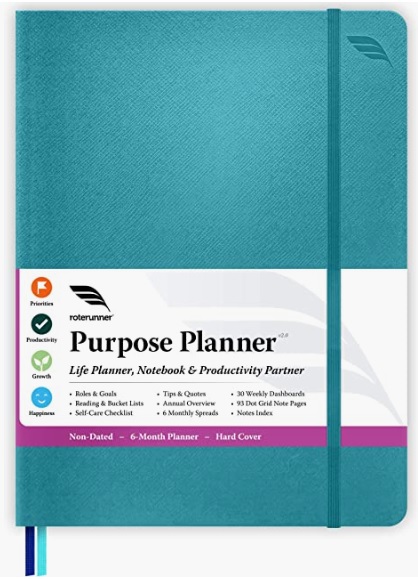 The Purpose Planner combines a unique life and goal-planning system with dotted paper to help you set goals and increase productivity, while also providing the freedom to plan how you want.
This six-month, 7.75" x 9.75" planner includes prompts, calendars, and grids to help the journal enthusiast in your life plan into the near future and beyond.
A really awesome gift for those who loves to stay organised and plan ahead.
You can find it the Purpose Planner on Amazon.
The Morning Sidekick Journal
This habit-tracking journal aims to help you form positive habits and establish a productive morning routine.
The science-driven exercises and prompts inside aim to help you find your purpose and plan your mornings so that you can get the most out of your day.
You can find the Morning Sidekick Journal on Amazon.
Little Hero's Journal
This adorable 13-week journal from BestSelf is an amazing journaling gift for any children in your life who might be interested in journaling.
This little, colourful journal aims to empower children, improve their mindset, and boost their confidence by getting them into the habit of practising reflection and self-awareness.
You can find out more on BestSelf's website.
Blogilates Journal (90 Day)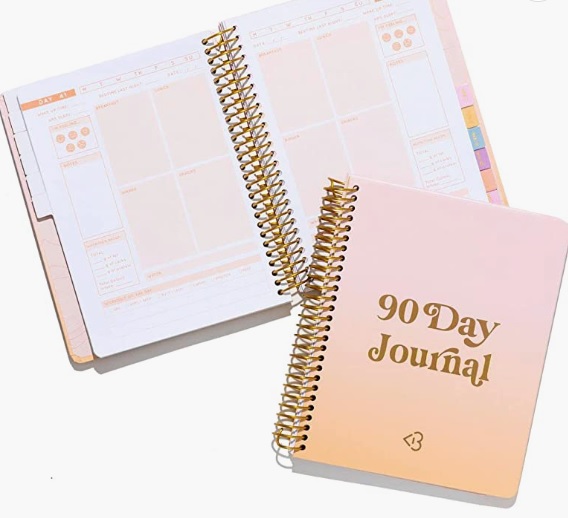 The Blogilates 90-Day Journal is aimed at wellness.
It includes a day-to-day lay-out that helps you track the progress of all your wellness habits in one place.
Check out the Blogilates Journal on Amazon.
Wellness Journal
This affordable 96-page self-care journal helps you look after your mental health and wellness.
It includes:
A wellness map
3 pages for intentions, feel-good goals and wishlists
12 weeks worth of daily overview pages (two-page spread for each day), with space for logging intentions, sleep, water intake, self-care ideas, meals, thoughts & feelings and things you're thankful for.
Body & mind, gratitude and goal check-ins
Reflection & 'Words to Remember' page
If you know someone that wants to take charge of their own wellness, this is a great gift.
Check it out on Papier's website.
Gratitude Journal: Invest few minutes a day to develop thankfulness, mindfulness and positivity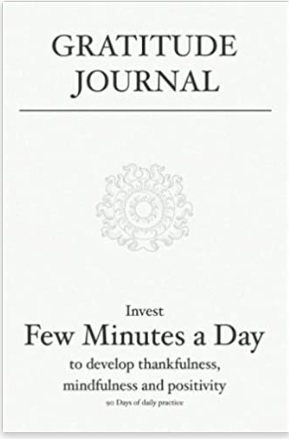 According to Amazon, "this 90 day journal offers a simple, yet powerful pen to paper method to invite positivity, gratitude and well-being into your life."
This particular gratitude journal gently encourages you to get in the habit of practising gratitude for just a few minutes in a day in order to transform your mindset.
You can find it on Amazon.
Dream Journal Notebook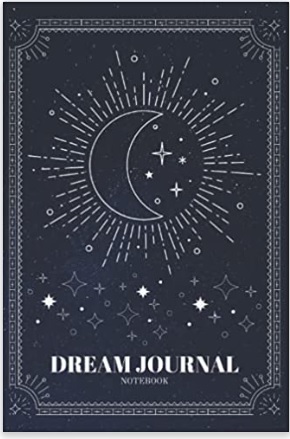 Ever woken up from a dream and thought, "what on earth was that about?"
Or, do you have a friend or family member who's always talking about their weird dreams?
The Dream Journal Notebook provides guides and prompts to help you interpret and unpack what's going on when you close your eyes at night.
It's thought that our dreams can tell us a lot about ourselves, why not give it a go yourself? (Or give someone else a go!)
Check out the Dream Journal Notebook on Amazon.
Planners

I usually find that if someone likes journaling, they probably have a planner too.
Planners help get your life in order, whether you like it or not!
Here are some great options for the planner in your life.
Clever Fox
Clever Fox are renowned for their variety of top-of-the-range planners and journals.
They're great value for money, as you get TONS of layouts, trackers, and more, as well as a high-quality cover.
Some awesome Clever Fox planners that you may want to buy as gifts include:
Sweetzer and Orange Updated Planner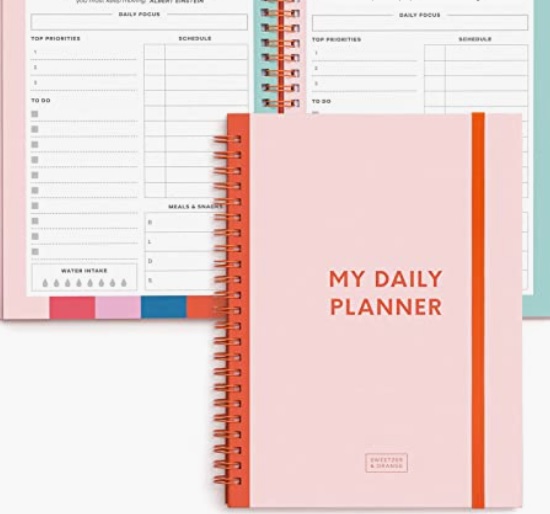 Sometimes less is more and this budget-friendly daily planner is perfect for those in your life who are just getting into organisation.
This sleek, gorgeous planner includes:
Daily to-do lists
Habit and routine trackers
Monthly goal and agendas
Kitlife – Daily Keeping it Together Planner
This cute planner "lights the way to an inspiring, energetic and vibrant year."
With a gorgeous cover (complete with inspiring quote), this versatile planner aims to help you focus on task management, goal achievement, healthy living and gratitude.
It includes:
Weekdays offer open planning space, as well as time slots and prompts for gratitude, activities, meal planning, and self-care.
Weekdays also display a handpicked inspirational quote.
Weekend Page provides open planning Weekend Page provides encourages setting a Weekly Intention.
Monthly Check-In encourage kindness and sparks spontaneity.
Two-page Tabbed Monthly Calendar spread with space for Notes.
Two-page Monthly Check-In to support Goal Setting, Habit Tracking and Personal Intentions for the Month ahead.
Quarterly Check-Ins prompt for reflection, goal setting and a pause to take personal inventory.
Check it out on KitLife's website.
Digital Planners

If the planning-enthusiast in your life prefers their planning a little more digital – I've got you covered.
Digital planners allow you to fill them in via your computer, which is a game-changer for many.
They're also usually a lot more budget-friendly than physical planners.
Here are a couple that I recommend:
Premium Planners

Premium, luxurious planners make perfect gifts for those who love to journal and organise their lives.
You really get what you pay for when it comes to these high-priced planners; they feel weighty in your hand, the paper quality is amazing, and they usually boast hundreds of daily pages to fill in.
If you're buying for someone special – or looking to start getting a little more organised yourself – I couldn't recommend nabbing one of these bad-boys enough.
The Magic of I Astrological Planner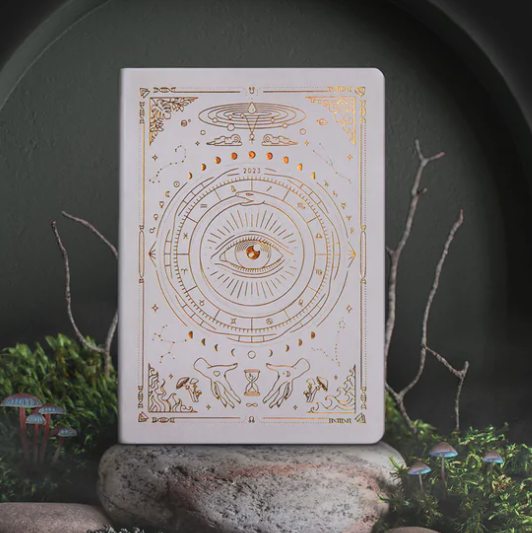 I've been using this stunning planner since the beginning of 2022 and I'm completely in love.
The cover doesn't just look beautiful, it's made from silk-touch vegan leather, so feels extra luxurious too.
The gilded edges, 110gsm paper, and holographic design of the 280-page planner also let you know that this is definitely a premium product.
The [A5] Magic of I Astrological Planner includes:
Weekly planner with all aspects and moon movements
Yearly moon phases and signs calendar
New moon and full moon dates list
Monthly new and full moon intentions journal pages
Planetary movements and retrogrades visual guide
Find out more about the Magic of I Astrological Planner on their website.
Whitney English Day on One Page Planner
The Day on One Page planner is Whitney English's self-purported best planner.
The spiral-bound 7 3/8″ x 10 planner boasts:
365 undated daily planning pages
12 undated monthly pages
120gsm paper
Half-hour time blocking 7am-9pm
Space for notes, to-do lists, and prioritising your daily tasks
Sointo cover pattern in pink
Pink patterned interior
Front pocket
Hand-drawn sticker set
I mean, just take a look for yourself on Whitney English's website.
Plum Paper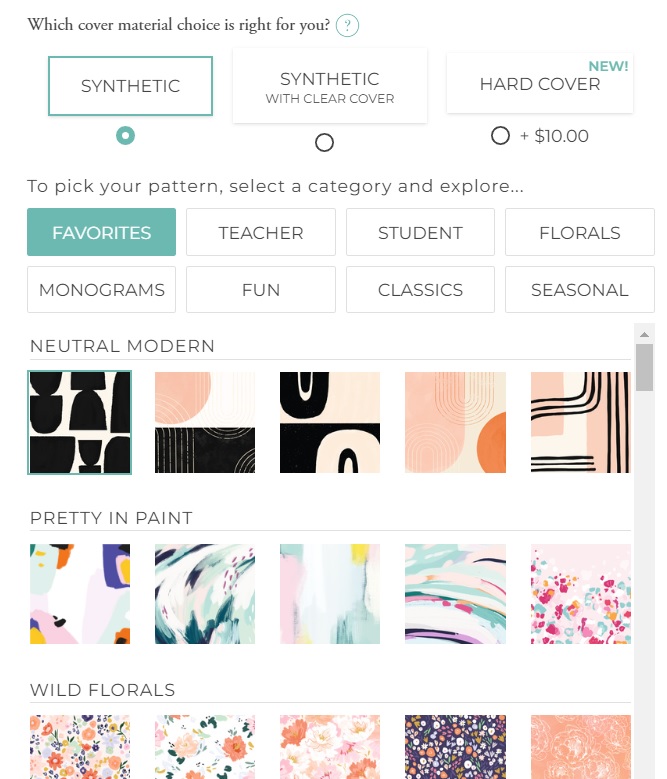 Plum Paper are a step ahead of the rest when it comes to customisable, premium planners.
Their goal planners are particularly impressive.
Not only do they offer different sizes of planner, they offer hundreds of different cover styles (all in different categories so they're easy to browse), cover fonts, page layouts, and colour schemes.
Have a play around on Plum Paper's website.
Emily Ley – Simplified Planner
Emily Ley loves designing simple planners to help busy women get organised without getting overwhelmed.
If you're new to planners, all the different templates and lay-outs in some might be confusing, so Emily Ley's minimal, sleek planners can come in clutch.
Don't get it twisted though, simple does not mean basic.
The spiral-bound Simplified Planner boats a stunning, sturdy cover in a range of beautiful designs.
Check them out on Emily Ley's website.
Day Designer Daily Planner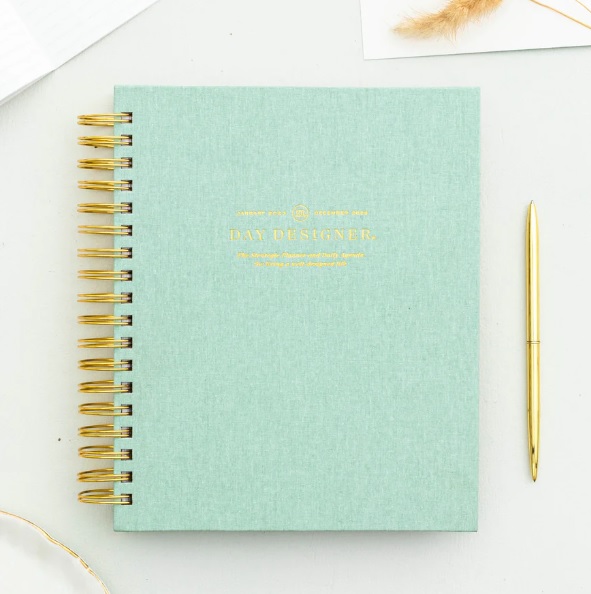 Day Designer's daily planner aims to help you literally design your day and bring tranquillity to your life through organisation.
This stunning planner includes:
Goal worksheets
Monthly calendars
Daily planning pages
Hourly Scheduling from 5am-9pm
Today To-Dos
Gratitude
Top 3 To-Do Prompts
Daily Inspirational Quotes
All to "help you achieve balance and productivity."
You can use currently promo code DDAFFILIATE10 for 10% off the entire purchase on Day Designer's website. 
Ashley Shelly Signature Daily Planner
Ashley Shelly describes this awesome planner as a "functional planner" that keeps you organised throughout the year.
It has a hard, glossy cover and 100gsm paper inside.
It boasts:
Daily pages for Monday-Friday with To Do List, Schedule, 3 Highlight boxes, and Notes
Creative Spreads each month to help you get grounded and inspired
Planner tips from Ashley
Inspiration Board page
Planning Overview spread
Yearly Overviews page
Sticker sheet
You can find this functional planner in a range of designs on Ashley Shelly's website.
Passion Planner Annual Planner
Passion Planner's annual planner aims to, "Chart the unexplored territories of your life using this productivity planner as your guide."
This planner includes:
Weekly spreads
Personal and work to-do list space
Timeslots
Monthly lay-outs in calendar form
Monthly reflection prompts
Passion roadmap to help you find your purpose
Blank and dotted paper for notes
You also get tons of stickers to help decorate your spreads however you wish.
Check it out on Passion Planner's website.
Blank journals and notebooks
The beauty of having gifting a blank journal is that the journal-lover can use it for whatever journaling techniques they like. For example, they might want to write, use it for doodles, or even scrapbook with it.
You give them the freedom of using a cute journal for whatever THEY want, which is amazing for people who have perhaps been journaling for a while and know exactly what they're doing.
Gilded Rosettes Journal
Gilded Rosettes have a ton of beautiful lightly lined, blank notepads available for you to free-write, expand on journal prompts, set goals, and write your gratitude lists in.
This stunningly intricate embossed journal has a hardcover, which makes it tough and durable (just in case the journal-lover you're gifting this journal to is like me and a little clumsy), and is actually a 19th-century binding of a volume of poems by Dante Gabriel Rossetti.
You can find the Gilded Rosettes Journal on Amazon.
Vintage Leather Journal
This absolutely breath-taking leather bound journal comes complete with a wraparound key for decoration, special antique paper, and soft, supple leather binding.
This special journal is perfect for journaling enthusiasts who are into rustic-looking, robust journals to write, doodle, or even note down their spells in.
It also comes in three sizes:
7.5″ x 5.5″
9″ x 6″
11.5″ x 8.25″
You can find this stunning journal on Amazon.
Hummingbird Journal
If the journal-lover you know is a little more colourful, this cute hummingbird journal is the way to go. This journal is perfect for those who prefer sweet, stereotypically feminine covers, as well as younger journallers.
The soft, feminine design of purple flowers and a hummingbird is adorable, while the hardcover makes it strong and durable.
This journal has 160 gsm (grams per square metre) lightly-lined pages, which means the person you're gifting it to is getting some quality paper that can be drawn or written on in just about anything without bleeding, making it great value for money.
Grab the Hummingbird Journal on Amazon.
Paperage Journal Blank Page Notebook
For the journal-lover who's not a fan of frills and intricate designs, this blank journal from Paperage is ideal.
Sometimes less is more and all you want is a blank notebook to journal in.
These 5.7″ x 8″ journals come in a range of colours, including:
Black
Pink
Yellow
Red
Blue
Burgundy
Navy
Green
They're hardbacked with 100 pages of high-quality, ivory paper inside, which means they're excellent value for money.
You can pick up this blank journal as a gift on Amazon.
Moleskine journal
Moleskine are a Milan-based manufacturer founded in 1997 who are renowned for their quality journals and notebooks.
If you want to gift a blank journal to someone who knows their journals, a Moleskine notebook is a solid choice.
They're durable, have an elastic closure, and come in a range of colours with quality, lined paper inside.
There are tons of Moleskine journals available, including:
Book of Shadows

Books of Shadows are similar to blank journals, but also different.
When you buy them, they look like any other blank journal on the inside. However, those who are Pagan, Wiccan, or interested in witchcraft often use them to journal their spells, findings about the craft, and information they come across.
While you can start a Book of Shadows in a plain, blank journal, a lot of witches, Pagans, and Wiccans choose to either decorate theirs or buy journals with appropriate covers.
You can also buy a range of stunning journals that are blank on the inside, but have amazing witchy imagery on the cover.
Here are some of my favourites.
Bullet journals

Bullet journals are like blank notepads but instead of the paper being lined, slightly-lined, or completely bare, it's dotted.
These dots act as guides so that you can create your own templates, layouts, and designs, which makes bullet journals the perfect gift for creative or artistic journal fan.
Dotted Journal by Vivid Scribbles
This 5.8″ x 8.3″ bullet journal by Vivid Scribbles has a stunning cover, which comes in a selection of colours, and includes 200 pages of premium, 160gsm, bleed-proof dotted paper.
This journal also comes with stickers, which any bullet journal-lover will tell you are a staple of their practise.
Bullet journals like this one are an amazing starting point for those who are just starting to get into bullet journaling and also a great gift for people who have been into journaling for a long time.
You can find this bullet journal on Amazon.
EMSHOI Dotted Notebook
This journal is the big boy of the bullet journaling world. It has 256 pages of 120gsm paper, as well as 16 perforated pages and inner pockets to hold your stationary and stickers.
This dotted journal is super budget friendly as well, as it costs less than a lot of other bullet journals while also boasting around 100 more pages.
The cover is sturdy and strong, and also comes in a range of colours.
You can find this dotted notebook here on Amazon.
Dotted Grid Notebook/Journal by URSUNSHINE
I had to include URSUNSHINE's selection of dotted journals because their covers are simply stunning.
The hardback, sturdy covers have a range of awesome designs, including marble, oil affect, and inspirational quotes.
This 5″ x 5.25″ journal also has an inner pocket for your other bullet journaling essentials.
You can find this journal on Amazon.
A5 Dotted Journal by Scribbles That Matter
Scribbles That Matter have some super-cute cover designs that will really speak to the journal-lover in your life who loves to doodle.
This journal boasts 160gsm paper, which makes it totally bleed-proof, even to fountain pens.
The covers come in a range of designs and is made from sturdy, faux leather.
Check it out the Scribbles that Matter Journal on Amazon.
Stencils for bullet journals

Stencils are a handy way to decorate your bullet journal or blank journal pages if you're not 100% confident in your freehand abilities (or even if you are!).
Personally, I know that every time I've tried to get artistic with my journal pages, it looks like a five-year-old has attacked it with a stick.
Stencils work by fixing them to the page and then using your pen or pencil to outline or fill in the shapes. You can use them to draw shapes, boxes to write prompts in, or design cool-looking titles for your pages.
If you're buying a journaling gift, they're a great budget-friendly option, or a useful addition to a journal gift basket.
20 PCS Journal Stencil Plastic Planner Set for Journal 
This 20-piece stencil set includes tons of templates for banners, boxes, doodles, shapes, symbols, and letters. Basically, everything you need to design a cute bullet journal layout.
These stencils wipe clean with warm water so are reusable, and are 4″ x 7″ so compatible with any journal.
You can find these stencils on Amazon.
24 Pieces Journal Stencil Set
This 24-piece stencil set is super impressive and a perfect gift for people who love to bullet journal.
It includes not only symbols and shapes, but whole journal templates, a range of whole page layout designs, and lined page templates.
This stencil set is for the journal-lover who enjoys organisation, direction, and structure.
You can find this 24-piece stencil set on Amazon.
31 Pieces Drawing and Painting Stencils
These pretty stencils are geared towards journal-lovers who need a little extra help with their doodles and the artistic side of bullet journaling. (This is totally me.)
This 31-piece set doesn't include page layouts and templates, but it does include a TON of cute designs – including flowers, butterflies, animals, and letters – to decorate your pages.
A good idea would be to combine these decorate stencils with a set of journal template stencils so that you cover all bases.
You can find these drawing and painting stencils on Amazon.
12 Pieces Large Mandala Stencil
This 12-piece set is so stunning and unique I just HAD to include it.
A mandala is an intricate geometric shape that originates from Buddhism and Hinduism. It represents the inner and outer world and is now widely regarded as a spiritual symbol.
These stencils help the journaller to draw a range of floral mandalas in their journal so that they can really level up your decoration game.
Check these Mandala stencils on Amazon.
Journal Printables

If the journalist in your life prefers to customise their journal themselves, getting them some printable inserts is a budget-friendly alternative to buying them a whole physical journal.
Etsy is a treasure trove of printables.
Pens and pencils

Journaling stationary is almost as important as the journal itself and therefore getting nice pens and pencils can be awesome journaling gift.
50 Colors Journal Planner Pens
These water-based, fine tip pens come in 50 colours and glide across the paper, which is pretty handy when you're trying to write down your feelings at 100 miles per hour. The last thing you need is a pen that catches or doesn't feel right in your hand.
These high-quality pens are a great component of any journal set or gift hamper.
You can grab these planner pens on Amazon.
COLNK Colored Gel Pens 
Gel ink is amazing to journal with as it's smooth on the paper, super-pigmented and fast-drying.
This set of coloured gel pens have a comfortable, ergonomic silica grips, and come in different ranges of colours from fruity to vintage so they can suit any style or design.
You can find these particular gel pens on Amazon.
Faber-Castell Albrecht Durer WC Pencils Set of 12
Faber-Castell are one of the world's leading manufacturers of pens and pencils, which means they know a thing or two about making quality stationary and makes them a good gift for people who enjoy journaling.
This 12-set of watercolour pencils is perfect for decorating journal pages so that the person you're gifting these to can get in touch with their colourful, creative side.
Check these watercolour pencils on Amazon.
Dual Brush Marker Pens
These 0.4mm fine tip markers are duel-ended with one end thicker for colouring and the other much thinner for precise details.
These pens come in 24 colours so are great for not just writing but colouring as well.
Pick up these marker pens from Amazon.
Specialist luxury pens

Luxury pens are an amazing journaling gift for those who are looking to spend a little more on something special or as a key part of a journaling gift hamper.
Scriveiner Black Lacquer Fountain Pen
This Scriveiner fountain pen is the perfect journaling gift if you're looking for a high-quality fountain pen for the journal lover in your life.
Fountain pens are brilliant for writing because they glide over the page and make a real statement.
This one comes in a few colours and is made from brass with black lacquer finished in 24 karat gold, making it a stunning gift for someone you care about.
You can check out this special pen on Amazon.
Calligraphy Pens
This set of 10 pens is designed for journallers who have a passion for calligraphy.
The tips come in a range of thickness and shapes to help the person you've gifted this to write in a range of elaborate, decorative fonts.
The thicknesses in this particular set include:
0.5mm
0.8mm
1mm
2mm
3mm
extra-fine
fine
medium
brush
soft brush
You can find these calligraphy pens on Amazon.
Quill Pen Calligraphy Pens Ink Set-Quill Pen Set
This calligraphy set is really special. It comes with 12 replacement nibs, a dip pen with a red feather aka a quill, a wax seal, and everything you need to really customise your journal in a unique way.
This set is stunningly decorated and perfect for those who are really into journaling, calligraphy, and antique aesthetics.
This calligraphy set would make an amazing stand-alone gift, but would also be really fantastic if gifted along with a blank, antique-style notepad.
You can get this calligraphy pen set on Amazon.
Plotube Calligraphy Pen Set
This is another really special pen set.
It comes with:
Wooden Dip Pen
Antique Brass Holder
11 Nibs
4 Ink Bottle
Beginner's Manual
It's beautifully presented in a cute box, which is great for gift-giving since you don't have to wrap it yourself.
Grab this journaling gift set on Amazon.
Pencil cases for journal supplies

Now that your loved one has got their stationary, they're going to need somewhere to keep it.
Here are some cute pencil cases that you can find on Amazon:
Stickers for journaling

Stickers are a great way to decorate a journal if you're not artistically inclined (like me). They're therefore a great, budget-friendly addition to any journaling gift set you might be getting for someone.
Aesthetic Planner Stickers
This massive sticker set comes with a whopping 1500 stickers (33 sheets) and is therefore bound to keep the journal enthusiast you're buying them for set for stickers for at LEAST a month…
These stickers aren't just decorative, they're functional, as they also include stickers for to-do lists, page headings, checklists and notes in a range of colours.
Pick up these planner stickers on Amazon.
Simple Productivity Weekly Planner Stickers
For those who need a little help with planning their days, these 30 sheets of stickers aimed at boosting productivity will be a god-send.
These stickers consist of weekly grids and trackers to help structure the week, which is amazing if the person you're buying them for loves to stay organised.
See these simple productivity planner stickers on Amazon.
DIY Notebook Laptop Stickers Pack
These stickers are so pretty and unique that I had to include them.
These are purely decorate stickers comprised of watercolour designs within geometric shapes and they're simply stunning.
There's 60 altogether, so more than enough for the journaller you're buying them for to decorate their journal to the fullest.
Check out these notebook stickers on Amazon – they're so pretty.
ZIIVARD 400Pcs Scrapbook Art Journaling Sticker Sets
This 400 (!) piece sticker set is ideal for filling blank space in a journal.
The delicate, pretty, rectangular designs and patterns are so cute and feminine.
I would personally use them to fill in gaps in my planner to make the page look more pleasing to the eye, but honestly you could use them to write on, cover mistakes, or cut them to underline or header areas. They're so versatile.
Check out these scrapbook journaling stickers on Amazon.
Journal prompt cards
BestSelf have a ton of journal prompt decks (aka Discovery Decks), which make amazing unique journaling gifts.
They're basically like playing cards but with journal prompts on so that you can shuffle them and take one at random every time you journal.
There are 150 prompt cards in each deck, so it should keep the person you're gifting this to set for journal prompts for months.
This is a great way to choose prompts, if you're unsure what you want to write about.
They come in a sturdy box and the cards themselves have simple, smart designs in a range of colours within the deck.
BestSelf have a TON of Discovery Decks available; some that would make great journaling gifts include:
These journal prompt cards are so innovative and a really thoughtful gift for anyone in your life who likes journaling.
Washi tape

Washi tape is a staple in any bullet (or regular) journal lovers toolkit, which makes it a great addition to a journal gift basket.
It's basically sticky tape, but with cool patterns on. It can be used to decorate, header, outline, or underline pages, sections, days, or important notes, as well as whatever you set your mind to.
Here are 10 stunning washi tape designs and accessories that you can give as journaling gifts:
Creative cool journaling gifts that are outside the box

What do you buy for the journal-lover who already has all the journal tools and equipment you can think of?
Sometimes you have to think a little outside-the-box and get creative.
Here are some journaling gifts that are just plain cool and would make thought, unique presents.
Action Pads
BestSelf have these really awesome journaling tools called Action Pads.
They're physical (paper) roadmaps that aim to help you form positive habits and achieve success in your life.
When you buy them, you get six months worth of roadmaps, which include checklists, trackers, and organised prompts, that you can fill in every day.
Three awesome Action Pads that you would make cool journaling gifts are:
Habit Roadmap (for forming positive habits)
Projection Action Pad (for planning successful projects)
Weekly Action Pad (for organising your week; this one gives you a whole year's worth of weekly planner sheets)
Journaling books, workbooks and courses
An outside-the-box journaling gift might be a workbook, book, or course on how to journal and/or achieve a certain goal with their journal practise.
By gifting a course or book, you also give the other person the gift of knowledge (cheesy, I know), so they can move forward in their life knowing how to journal effectively.
Some journaling books, courses and workbooks you might want to gift are:
KODAK Smile Instant Print Digital Camera
A lot of scrapbookers and journal enthusiasts like to include happy, memorable moments in their practise. It helps them remember it, which can be useful when it comes to gratitude, positivity and self-reflection.
A great way to do this is through photos.
The Kodak Smile Instant Print Digital Camera is a digital camera that allows you to take a photo and then instantly print it so that you can stick it straight in your journal.
The easy-to-use, slide-open 10mp camera comes in a range of colours, has an LCD viewfinder, built-in editor, 2 picture modes and fixed focus for taking pictures on-the-fly.
You can usually find the Kodak Smile Instant Print Digital Camera discounted on Amazon.
Kodak Dock Plus Portable Instant Photo Printer
Another genius option for printing photos for your scrapbook or journal is this dock printer, which you can use to connect your iPhone in order to print full-colour, premium quality photos straight out.
The Kodak Dock Plus Portable Instant Photo Printer is compatible with iOS, Android and Bluetooth Devices.
Check it the Kodak Dock plus Portable Instant Photo Printer on Amazon.
Dofilachy Journal Supplies Storage Case
This functional storage case has space for your journal, stickers, pens and pencils, which makes it perfect for traveling.
It has two detachable layers and comes in sizes medium (A5) and large (5.8″ x 8.3″), so it'll accommodate most journals.
It comes in a few smart colours, looks super-durable, has a really smart design, and is very budget-friendly.
Take a look at the Dofilachy Journal Supplies Storage Case on Amazon.
Cartoon Tape Pen
Tape pens are amazing little quirky gifts for those who journal and a cute addition to a journal set.
They're basically tape dispensers, but the tape is super-skinny with little designs on it.
It's perfect for covering up or correcting mistakes, or decorating journal pages.
Check out the cartoon tape pen on Amazon.
ALIMITOPIA Diary Stamp Set
Stamps are a really original way to decorate a journal and an amazing gift for those who love to make their journal pages really bright and colourful.
The different wooden and rubber sets come in a range of designs from letters to witchy, moon imagery.
These diary stamps on Amazon are so, so beautiful.
Craft Rainbow Ink Pads Washable Finger Ink Pads
Why use regular old ink pads to stamp-decorate a journal, when gradient ink pads are available?
They add a really pretty, eye-catching element to journal decorating and are something a little different.
These are some really highly-rated ink pads on Amazon.
How do you give a journal as a gift?
Right, so you've decided you want to give someone a journaling-related gift, but not sure how to go about it. It can be a pretty personal gift after all.
Here's what you can do.
Ensure the person you're buying for is actually interested in journaling. Hopefully, if you're here, they are, but if they're not, you might want to look elsewhere. Journaling isn't for everyone.
Do a little research regarding what kind of gift they would find useful; try to recall if they've mentioned anything in a previous conversations. What type of journaling do they usually partake in? Are they spiritual? Do they prefer antique-aesthetic or stereotypically feminine bright colours. If you still have no idea what to get, putting together a journaling gift basket is a safe choice as it includes everything.
Order the gift in advance so that it has time to arrive.
Write a note in the front cover of the journal gift or to place inside to let them know why you got them a journaling gift; remember to add the date for them to look back on.
Gift wrap if you feel it's necessary. A lot of journals are so cute that you don't even need to add anything, but a ribbon adds a nice touch.
Ultimately, journal-related gifts are really thoughtful and unique, so there's not much room to go wrong.
DIY journaling gift basket
If you can't decide on what individual gift to get the journal-lover in your life, want to splash out a little more, or just want to put together something really thoughtful, putting together a journaling gift basket is a beautiful idea.
You can include a few journaling-related items so that all of your bases are covered and the person you're gifting it to has everything they need to start their journaling journey – or continue the one they're already on for a long time.
A journal gift basket is probably my dream present, and since I'm an avid journaller myself, I imagine it would go down well with anyone in your life who enjoys journaling.
While you can buy journaling gift baskets already put together, it's much better and more thoughtful to put one together yourself. You can include whatever your specific person wants and cater it to their own, unique style.
What to include in your journal gift basket:
For the artsy journal-lover:
A cute blank journal
Stickers
Calligraphy set
Set of pens
Stencils
Pencil case
For the organised journal-lover:
Productivity journal
Template stencils
Fine-tip pens
Stickers
For the bullet journal-lover:
Bullet journal
Calligraphy set
Stickers
Washi tape
Coloured pens and pencils
For the spiritual journal-lover:
Law of attraction journal
Mandala stencils
Fountain pen
Stickers
Budget friendly journal gift basket:
Blank notepad
Stickers
Coloured pens
The great thing about journaling gift baskets is that you can mix, match and add anything you want depending on the interests of the person you're gifting it to and your budget.
They're also really simple to put together once you know what you're including.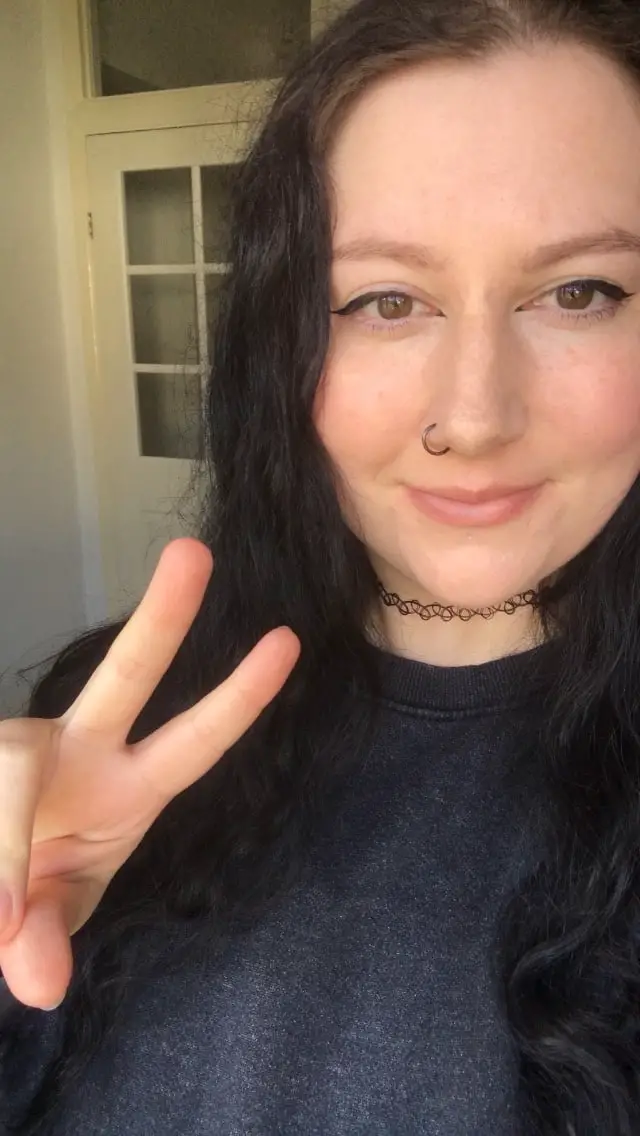 A witchy ray of sunshine who loves to help others on their journal journey. I've been journaling since childhood and have since gone on to earn a degree in English and a diploma in Shadow Work. I love my plant babies, yoga, and anything spooky. Find out more on my about me page.