20+ Autumn Self-Care Ideas and Tips to Improve Your Mindset This Fall
Keeping up with an autumn self-care routine can feel like swimming against the tide.
Making time for self-care is difficult at the best of times. However, when it's cold outside; The Walking Dead kills off your favourite character; and there seems to only be about two hours of daylight for months on end, a lot of people tend to succumb to the 'winter blues' or even Seasonal Depression.
This usually means we put taking care of our mental, physical, and emotional needs on the back-burner.
With this in mind, here are some autumn self-care tips to get your through the colder months, as well as some self-care ideas.
7 Autumn Self-Care Tips
Before we get onto the autumn self-care ideas, here are some tips to get you started.
#1. Be realistic about your mental health goals
When it comes to sticking to an autumn self-care routine, don't bite off more than you can chew.
Autumn is the season of reflection and taking stock. Nature starts to wind down or go into hiding during the colder months; vivid greens are replaced by warm, burnt oranges, reds and browns.
The warm, sunny summer weather is over, and winter is on its way.
It's almost like the clean up after a raging house party. Subdued, tired, nostalgic and, for some, a little sad.
You've probably already got a lot going on, whether that's in your head or physically in front of you. So, there's no point telling yourself that you're going to apply a mud facemask, pumice stone the s**t out of your feet, make a three-course raw vegan meal, perform yoga as the sun sets, and align all your sodding chakras every night.
Why? Because, you ain't going to do it.
And the problem is, when you're trying to IMPROVE your mental health, the last thing you want to do is give yourself more tasks to 'fail' at. You're not a failure, obviously. Falling behind on your self-care routine isn't failing – it's life. But you and I know exactly how our brains work; not doing something that we've planned to do = failure.
Be realistic, set achievable self-care goals.
For example, just plan to sit down, eat a balanced meal, and take a damn shower every night. Even if your shower is only five minutes long and you're pretty sure you accidentally used shower gel in your hair instead of shampoo.
And then maybe once a week you apply that facemask and fit in a cheeky downward-facing dog…
If you practise something small every day rather than aim too big, it'll be much easier to stick to your autumn self-care routine.
#2. Consider light therapy to improve your mental health
If you do suffer from seasonal depression, invest in a decent light box.
Light boxes produce light that mimics the sun's rays – except not harmful UV rays.
People who suffer from SAD are thought to experience a drop in serotonin (amongst other chemical changes) due to the lack of sunlight during the darker months of the year. Light boxes can help return your serotonin levels to normal.
Amazon has tons of light therapy light boxes available.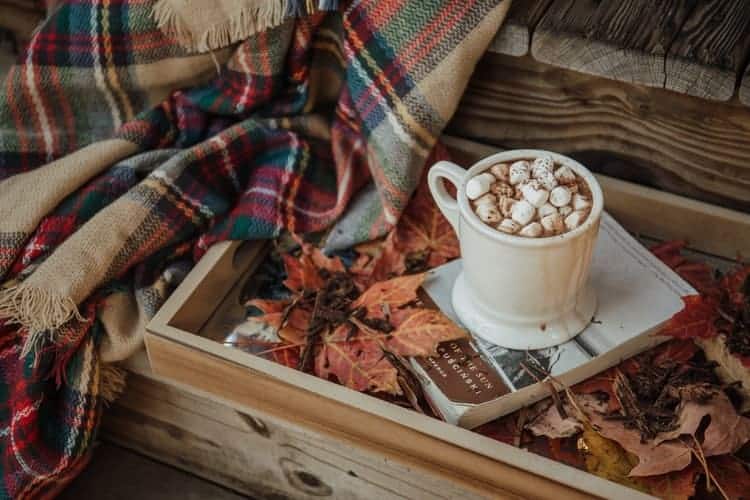 #3. Keep warm and cosy
Being too cold is pretty miserable and can make you feel even worse if you're already feeling low physically and mentally.
Don't just sit there and suffer through it, like I know so many of you probably do. Wrap up nice and warm, and get cosy.
Some of my favourite things to do in autumn and winter are lighting scented candles (seriously, I do this as soon as I wake up if I'm feeling low), throwing on an oversized jumper, and drinking gallons of hot beverages.
Honestly, by November I'm pretty sure I'm already about 90% tea.
Don't see autumn as the summer ending, see it as a new season beginning.
Pumpkin spiced lattes (if that's your thing), warm cider, knitted jumpers, hats, seeing your breath, scarves, gloves, cosy movie nights, everything orange, Halloween, fireworks, hot soup, hot chocolate, the smell of gunpowder in the air, crunchy leaves… embrace it!
Obviously, I realise that if you suffer from SAD, you might love the idea of autumn but still feel shitty. I know 'cause I struggle with seasonal depression despite autumn and winter being my favourite seasons, which leads me to my next autumn self-care tip.
#4. See a therapist
If therapy is accessible and available to you, self-care shouldn't be used as a replacement for professional treatment, especially if you're really struggling with your mental health.
While self-care is great in autumn, please don't shy away from seeing a therapist just because you don't see one the rest of the year.
#5. Get outside to improve your mindset
Taking a walk in autumn is amazing. The leaves are all crunchy, there's a bit of a bite in the air, and you can actually wear your favourite jacket without breaking into a sweat before you've even left the house.
Not only does getting fresh air and gentle exercise improve your mental health is general, it will give you a new found appreciate for the season.
Autumn is beautiful. Even when it's cold, drizzly and grey.
It feels like nature is packing itself away, ready to reset in the spring.
Get outside, soak up what vitamin D you can get, and get moving.
#6. Keep a journal
I always recommend keeping a journal all year. However, it's especially important then your mental health isn't in the best place.
Use your journal to:
Keep track of your moods so that you can see patterns and act accordingly
Practise gratitude
Set long and short-term goals
Schedule in autumn self-care
Plan out your routine
Practising gratitude is really affective at combatting poor mental health as it helps you focus on the positive in your life.
Now that we've gotten some general autumn self-care tips out the way, here are some self-care activities and ideas for you to try out.
#7. Sign up for a self-care subscription box
Self-care subscription boxes send you a cute care-package every month full of handy self-care items.
They handy because once you've signed up, you don't have to worry about forgetting to practise self-care or buy self-care items, as they're sent directly to your door.
TheraBox are a wonderful self-care subscription company that send you cute, themed self-care packages every month.
Their boxes are packed full of self-care items, such as aromatherapy oils, skincare, and activities that aim to boost happiness, inspire you, and reduce stress.
You can check out TheraBox if you think this sounds like something you need in your life.
20 Autumn Self-Care Ideas
Here are some examples of self-care that you can implement into your routine this autumn:
Wash your winter bedding and make your bed
Light your favourite autumn-themed scented candle
Write about your fave autumn-related things in your journal
Set an alarm for medication
Drink plenty of water
Eat warm, comforting meals that you enjoy
Bake your favourite autumnal treats
Drink warm drinks
Run warm baths and have hot showers with your favourite autumn-themed products
Slather – and I mean slather – yourself in body butter and moisturiser
Take cosy naps under blankets
Make some extra appointments with your therapist
Wrap up in a big hoodie and comfy clothes to do yoga
Set autumn goals
Go for a walk in nature
Practise gratitude – what about autumn actually makes you feel grateful and positive?
Watch your favourite spooky movies
Arrange cosy movie nights with loved ones
Decorate your home in autumnal colours and/or Halloween decorations
Enforce boundaries and protect your energy that might be lacking at this time of year
What are the main self-care categories?
As you can see from the list of autumn self-care ideas above, self-care is quite a broad term.
The main self-care categories that I like to cover on this blog are:
Mental self-care
Physical self-care
Social self-care
However, there's also spiritual self-care and a ton of other types.
Self-care means taking care of your emotional, mental, physical and social needs.
Examples of each type of self-care
Examples of self-care in each category are:
Emotional – Having a cry, talking to a friend, communication.
Mental – Seeing a therapist, journaling, taking medication, meditation.
Physical – Exercise, eating nutritious food that you enjoy, not restricting yourself, drinking water, getting enough sleep.
Social – Enforcing boundaries, knowing when to say 'no,' recognising when you do and don't need human interaction.
Some of these self-care ideas overlap into other categories, but what's important is that you're hitting each category in some way.
Self-care isn't just about face masks and long baths – although this can be part of it if that's what works for you.
It's about taking care of all of your needs and putting self-care first.
It's about working on your mindset, holding yourself accountable, and growing as a human being in order to better yourself.
Why is self-care so important during autumn?
Why is your autumn – or fall – self-care routine any different or more important than your summer routine? I hear you ask.
Well, it's not necessarily more important, but it is more likely to be neglected, which is why we have to work on it a little harder.
What's more, you're more likely to need to take care of yourself in autumn and winter. It's colder, the air is drier and everyone is waiting to pass you their cold.
What causes us to neglect self-care in the autumn?
You're much more likely to suffer from Seasonal Depression during the darker months.
Seasonal Depression (or Seasonal Affective Disorder) can have an impact on feelings of self-worth.
The colder, darker months can affect your mental health, leaving you less likely to actually look after yourself and practise self-care. In turn, this makes your mental state even worse and the cycle continues.
During the summer, you're out and about enjoying the sun, seeing friends and soaking up all that sexy vitamin D.
Your mood is likely to be better and you're therefore more likely to practise basic self-care, such as showering and washing your hair, than during the winter without even thinking about it.
Making time for self-care in the autumn is SO important when it comes to our own well-being and it's never too soon to start.
Self-care is a non-negotiable when it comes to our mental health and mindset. It really can completely change your outlook, self-worth, and way you approach life.